Archived News
Stars Climb The Western Conference Ladder After Impressive Stretch
March 9, 2011 by Sean Hartnett, JL15.com contributor
When it mattered most, the Dallas Stars raised their play and as a result have risen up the Western Conference standings to 5th place. The past five games have given the Stars a taste of what expect in the playoffs as they battled it out with conference foes vying for the right to compete for the Stanley Cup.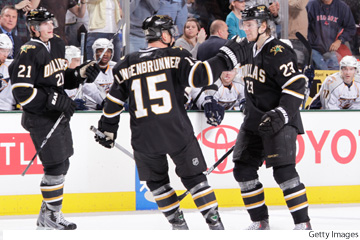 Langenbrunner and Eriksson congratulate Wandell after scoring against the Predators.

The Stars completed their February schedule at home against the Nashville Predators. Both teams desperately needed a victory and the fans at the American Airlines Center were treated to an intense showdown that Saturday. After Dallas killed off a late first period power-play, Tom Wandell streaked down ice alongside Jamie Langenbrunner and beat Nashville goalie Pekka Rinne "five hole." It was the Swede's fourth goal of the year as his fellow countryman Loui Eriksson collected his thirty-seventh assist.

Two second period goals from Ryan Suter and Colin Wilson gave the Predators a 2-1 lead going into the third period. It would take a strong effort for the Stars to come away with the victory that afternoon but they rose the challenge. Recently acquired defenseman, Alex Goligoski began the comeback as he scored his first goal as a Dallas Star. Mike Ribeiro found his thirty-ninth assist of the season as he along with Stars' captain Brenden Morrow was credited with assists. Goligoski turned provider by setting up Eriksson for the game-winning power-play goal, his twenty-first of the year. Morrow and Goligoski each made it a two-point game as they picked up their eighteenth and twenty-fourth assists of the season respectively.

It was a galvanizing 3-2 win for the Stars and their head coach. Mark Crawford was pleased by the will of his players. "It was so, so important. I give a lot of credit to our guys for digging in and finding a way. I thought we started the game the way we wanted to. We knew it was going to be a hard-fought, hard-skating battle," he stated.

The NHL trade deadline passed on February 28th and Dallas General Manager Joe Nieuwendyk refused to lower his demands for coveted superstar Brad Richards. Stars' fans were delighted to hear that Richards was going nowhere and would remain in the Lone Star state. "I think in my mind, I wasn't going to move him unless someone really knocked our socks off with something we couldn't refuse. We've said all along that we want to sign Brad, and we still feel that way. We want to sign Brad Richards to be a Dallas Star for a long period of time," Nieuwendyk declared.

Dallas began a four-game divisional road trip on March 1st in Phoenix and looked to avenge their overtime loss to the Coyotes in their previous meeting. The game lived up to the hype and fans were in for another exhilarating match-up. Tom Wandell gave the Stars the lead late in the first period. It was his fifth goal of the season as Toby Petersen gained his third assist of the year.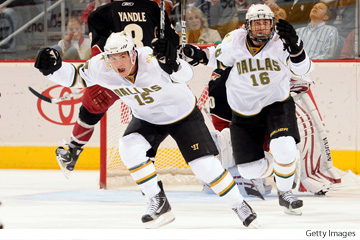 An excited Langenbrunner and Burish rush towards their teammates after scroing in Phoenix.

The second period offered many chances but despite registering thirteen shots on goal, Dallas couldn't increase their lead. Twelve minutes into the third period, Steve Ott circled along the boards and threw the puck in front of net as Langenbrunner tipped in a goal that would double the Stars' advantage. It was Langenbrunner's eighth goal of the season as line-mates Ott and Burish collected their respective fourteenth and fifth assists of the year. Newly acquired Rostislav Klesla grabbed a goal back for Phoenix before Ray Whitney evened the game with just seconds left. Moments later, a hooking call led to a Dallas power-play.

Fans were sensing a second consecutive overtime battle between the teams but late drama left the crowd at Jobing.com Arena stunned. A fight along the boards was won by Ribeiro who made an unbelievable pass to Jamie Benn who buried the game-winner with only four seconds remaining. It was Benn's fourteenth goal as Ribeiro and Eriksson recorded their fortieth and thirty-eighth assists of the season. Kari Lehtonen made vital saves all night to keep the Coyotes at bay and his 25 stops helped preserve their 3-2 victory.

The Stars celebrated once the final siren sounded. Langenbrunner commented on the thrilling finish, "It was a crazy last few minutes. You go through all the emotions there. We played a very good game, then we gave them two late ones. Credit them for battling. Then it was a great play by Benner to bury the winner there with no time left."

Features
News Archive
Store
Gallery
We have a variety of articles that cover Jamie's career from high school to today.
The only place to get exclusive JL15 apparel.
The gallery features an extensive catalog of images of Jamie throughout his career.
Browse our Archive
Check out the Store
View the Gallery