Bio
Before his journey into the National Hockey League, Jamie Langenbrunner was a standout at the high school level scoring 150 points in 70 games over three seasons. The Minnesota native guided his Cloquet Lumberjacks to back-to-back state tournament appearances as he attracted the interest of NHL scouts. As a junior, Langenbrunner assisted on 10 goals in 3 games during state tournament play as his draft stock continued to rise.

Jamie's outstanding play earned him Minnesota High School Player of the Year honors leading to his 35th overall selection by the Dallas Stars in the 1993 NHL Entry draft. He decided to forgo his senior year and spent the next two seasons developing his game in the Ontario Hockey League with the Peterborough Petes. Jamie was also able to get his first taste of representing his country in the 1993 World Juniors where he scored 2 goals.

Langenbrunner tallied an impressive 190 points in 124 games with the Petes before debuting for the Stars during the 1994-95 season making 2 appearances. Jamie again took part for the United States in the 1994 World Juniors, scoring 2 goals during tournament play.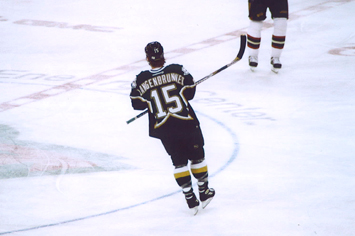 He spent the next season splitting time between Michigan K-Wings of International Hockey League and the Stars as he was named both the Rookie of the Year and Most Valuable Player of the K-Wings. Jamie went on to compile 65 points in 59 in the IHL regular season while totaling 13 points in 10 playoff games. Langenbrunner finished runner-up for the McKenzie Trophy for top American born rookie and second overall in the IHL's Rookie of the Year voting before being called up to the Stars where he made 12 appearances, scoring 4 points.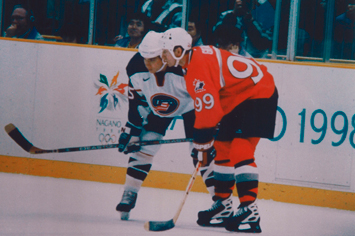 1996-97 was his first full season in Dallas where he played 76 games, notching 13 goals and 39 points making him a finalist for the Calder Trophy for NHL Rookie of the Year. It was his next season though that Jamie broke the 20-goal mark scoring 23 while also adding 29 assists. At 23, his solid play earned him a spot on the 1998 U.S. Olympic roster where he was able to represent his country at the Nagano games.

His greatest moment with the Stars came during the 1998-99 playoffs where he contributed a crucial 10 goals and 17 points as Dallas went on to win their first ever Stanley Cup over the Buffalo Sabres in a controversial game six clincher that came in triple-overtime. Jamie finished behind only superstar Mike Modano and that year's Conn Smythe trophy winner Joe Nieuwendyk in playoff points for the Stars.

Langenbrunner was Dallas' plus/minus leader at +16 in 1999-2000 but missed significant time due to a pinched nerve in his neck. He was still able to rack up 39 points during the regular season. That playoffs, the Stars again found themselves in the Stanley Cup Finals but this time lost out to the New Jersey Devils in six games.

2000-01 was another injury plagued season for Jamie as he appeared in a career-low 53 games due to abdominal injuries. Langenbrunner played in a total of 68 games for the Stars during the 2001-02 season before being dealt to the New Jersey Devils along with Nieuwendyk in exchange for future teammate Jason Arnott and New Jersey's assistant captain Randy McKay.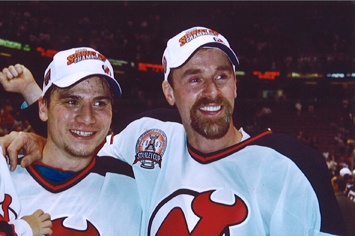 In his first full season with the Devils, Jamie set then career highs with 22 goals, 33 assists and 55 points. His fine play that year was topped by sensational performances in the 2003 Stanley Cup playoffs as he led all players with 11 playoff goals and 18 total points. Langenbrunner's key goals helped the Devils lift the Stanley Cup in the thrilling seven game series over a determined Anaheim Ducks team led by Paul Kariya. It was Langenbrunner's third finals appearances in five years and the second time his name was engraved on Lord Stanley's Cup.

The 2003-04 season was another in which Jamie was hit by injuries and missed 28 games but put together a streak of 29 appearances without missing a game. October 28, 2003 was a special night for Langenbrunner as he took part in his 100th game as a Devil and reached the 300-point mark in his career.

Once again Jamie was given the opportunity to represent the United States in 2004 World Cup of Hockey. That summer was dominated by the possibility of lockout of the 2004-05 NHL season. Neither the owners nor the Players' Association could come to an accord and the entire season was cancelled. Langenbrunner meanwhile joined up with Ingolstadt of the German Elite League and finished second for the club in playoff scoring with 7 post-season points.


When the NHL returned in 2005-06, Langenbrunner had a strong bounce-back year by compiling a 53 point season and a then career high 34 assists. He took part in his 600th NHL game and surpassed the 100-point mark as a Devil during the season. Jamie was in fine form in the playoffs as he totaled 13 points in just nine games, only trailing Patrik Eliáš for the team lead.

His numbers again took a leap forward in the 2006-07 season where Jamie scored matched his personal best of 23 goals in a season and surpassed his previous high of 37 assists as his 60 points were a then career high. He scored his 200th point since moving to New Jersey and led the Devils with 12 power play goals during the season. Langenbrunner continued to cement his reputation as a strong playoff performer by scoring 8 points in 11 post-season games.

Jamie Langenbrunner was elected Devils' team captain on December 5th, 2007 and has continued to perform the role with distinction to present day. He served as mentor to current stars Zach Parise and Travis Zajac, teaching home-grown products the ropes of NHL success with his many years of experience. Jamie played in his 800th career NHL game during the 2007-08 season and took his consecutive appearance streak to 144, thus demonstrating his longevity and toughness.

The 2008-09 season yielded Langenbrunner's best individual season as he totaled career highs of 29 goals and 69 points while reaching the 40-assist mark for the first time as a professional. Jamie reached the 200 goal plateau on March 3rd, 2009 but in typical fashion, he downplayed the achievement and gave praise to his teammates. Clearly, he is motivated by team accomplishments and is focused on bringing the Stanley Cup back to New Jersey.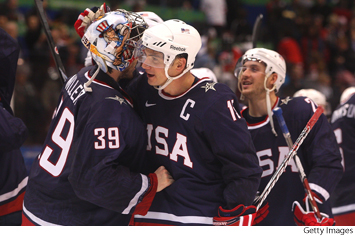 Before the 2010 Olympics, Langenbrunner was handed the unique honor of captaining his country in the Vancouver games. The Americans were widely viewed as massive underdogs going into the tournament as pundits and respected hockey analysts alike predicted an early exit for Team USA. Even Brian Burke whose role as general manager for the United States was compiling a roster worthy of going into the medal round admitted, "I wouldn't get a penny bet on them in Vegas."

Despite the gloomy forecast, Jamie helped the team gel together as USA finished as the top seed going into the medal round. The "never say die" Americans pushed favorites Canada into overtime but lost the penultimate Gold medal game. Team USA could hold their heads high as they accepted their Silver medals as they truly gave everything they could for the cause. Langenbrunner posted 4 points including 1 goal and 3 assists in 6 Olympic matches.

During the 2009-10 season, Jamie put together a streak of three consecutive multi-goal games with a game winning goal. The last player to accomplish such a feat was the immortal Wayne Gretzky in 1981-82. Another career landmark was reached on March 20, 2010 when Jamie tallied his 600th career assist. He finished the campaign with 19 goals and set a new career high in assists at 42.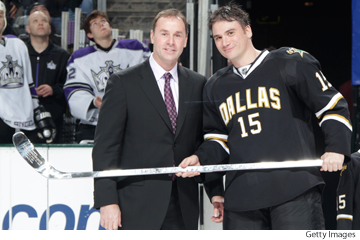 Langenbrunner's career seemed to come full circle when he was reacquired by the Dallas Stars on January 7, 2011. Joe Nieuwendyk who now serves as General Manager of the Stars wanted to add a veteran presence to his roster to increase Dallas' chance of making a deep playoff run and believes that Jamie will be a positive influence on the team.

"I know the character of Jamie, and I know he's going to be a terrific fit for us in the locker room. We are very excited to add Jamie to our team. He fits the mold of the type of players we want on this roster -- strong work ethic, tough, passionate and hard to play against," Nieuwendyk said.

The move delighted Stars fans who never wanted to see Langenbrunner leave nine years earlier. It was only fitting that Jamie was able to take part in his 1,000th career NHL game in front of the same fans who first welcomed him into the league in 1995. With family and friends gathered at the American Airlines Center, Jamie enjoyed an unforgettable night on January 17th, 2011 as he not only reached the career landmark of 1,000 games but also scored his first goal since returning to Dallas.

Another achievement came when collected his 400th career assist on March 23rd, 2011 but the ultimate goal eluded Langenbrunner and the Stars. Dallas narrowly missed reaching the playoffs on the final day of the 2010-11 season but many of Jamie's teammates were grateful for the experience gained playing alongside him.

For the first time in his career, Langenbrunner became a free agent and signed-on with the St. Louis Blues ahead of the 2011-12 season.

Fans in the "Show-Me State" soon got to see first hand what Jame is all about: an all for the cause mentality, a dedication to hockey that is second to none and a legendary work ethic that inspires younger teammates.

His veteran leadership helped an emerging Blues team gel together and record an impressive 49-win season in his first year in St. Louis. The Blues improved their yearly points total by 22 points and captured their first Central Division title since the 1999-2000 season.

Heading into the abbreviated 2013 season, Langenbrunner has taken part in 1105 NHL games, scored 243 goals and tallied 419 assists. After re-signing in St. Louis, the 37-year-old is looking to surpass the 250-goal landmark and deliver some more trademark playoff magic in a Blues' sweater.

Contributed by Sean Hartnett
Features
News Archive
Store
Gallery
We have a variety of articles that cover Jamie's career from high school to today.
The only place to get exclusive JL15 apparel.
The gallery features an extensive catalog of images of Jamie throughout his career.
Browse our Archive
Check out the Store
View the Gallery