Archived News
Stars Surge as Langenbrunner Returns and Takes Part in 1000th Career Game
January 19, 2011 by Sean Hartnett, JL15.com contributor
On January 7, 2011, Jamie Langenbrunner packed his bags to return to the Dallas Stars, the team where he began his NHL career and helped the club lift the 1999 Stanley Cup. It was mixed emotions for Jamie as he was leaving the New Jersey Devils, the team he had the privilege of captaining since Decemeber 2007.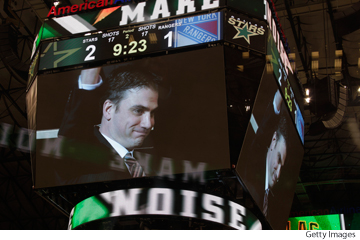 Langenbrunner didn't arrive in time to play but did draw a standing ovation when he appeared on the scoreboard.

A fresh challenge in a familiar place awaited Langenbrunner who was excited to be part of an up-and-coming Stars' team leading their Pacific division race. Jamie's flight back to Dallas didn't allow him the chance to make his home debut that night against the New York Rangers but he was in attendance at the American Airlines Center and received a huge ovation when he was put up on the big screen.

His Stars' debut would come a game later in his home state of Minnesota where friends and family watched on at the Xcel Energy Center. Dallas came out the gates strongly, gaining a commanding 2-0 lead at the close of the first period. Shortly into the game, Brad Richards delivered a well-placed pass and Trevor Daley finished for his third goal of the season. Later, Jamie Benn outmaneuvered Minnesota defenders by stylishly deking towards the net and beating Wild goalie Jose Theodore. It was his tenth goal of the season.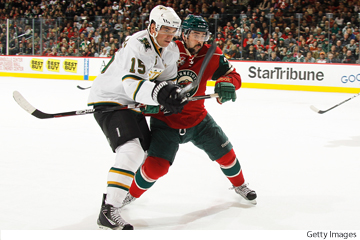 Langenbrunner and local favorite Cal Clutterbuck of the Minnesota Wild fight for position.

Dallas kept up the pressure during the second period but neither team could find the back of the net. Just shy of ten minutes into the third period, James Neal scored his fifteenth goal as again Richards was the provider, picking up his thirty-first assist of the year. Benn cemented the rout by increasing the Stars' lead to 4-0 and picked up his eleventh tally of the season. Andrew Raycroft collected his second shutout this campaign and kept the Wild at bay by parrying 26 shots.

Benn was pleased with his team's performance, "We focused on us and wanted to play our game. We knew they were hot coming in, but we've been playing pretty good on the road, so we just kept it the same and got a good effort."

Langenbrunner spoke about his adjustment after his trade, "I had a little bit of nerves coming home to Minnesota to play my first game with my new/old team and all that. It's been an exciting few days for me. I have to think a little bit more just to make sure I'm in the right spot."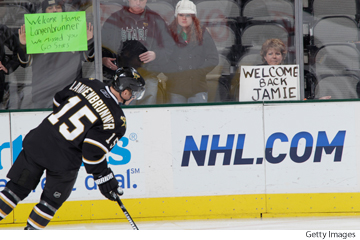 Homemade signs welcomed Langenbrunner back to Dallas, making his home re-debut in a Stars jersey.

Back home at the American Airlines Center, Langenbrunner took part in his first home game as a Dallas Star since his March 2002 trade to New Jersey. Captain Brendan Morrow opened the scoring with his eighteenth goal of the year with Mike Ribeiro picking up his twenty-eighth assist. Shortly afterward, Langenbrunner delivered a powerful check to Linus Omark and scrapped with Kurtis Foster. The crowd stood and applauded and it was almost as if Jamie hadn't even left.

Langenbrunner later told reporters, "I guess you're not allowed to hit anyone in this league any more. You throw a check and they come after you. But that's what we wanted to do, be physical on their guys - they have some pretty good speed there, we did a pretty decent job of that."

Benn doubled the Stars' lead, making a fantastic drive toward the net and beat Oilers' goalie Nikolai Khabibulin for his twelfth goal of the season. Going into the second intermission, Dallas was ahead 2-0 but Edmonton battled back in the third period. Jean-Francois Jacques and Ryan Jones' efforts evened the contest at 2-2. James Neal unleashed a snapshot that deceived not only Khabibulin but also the officials. After review, Neal's goal stood as he picked up his sixteenth of the year. As the Stars closed in on a 3-2 victory, the bad blood from earlier spilled over as multiple fights broke out. Morrow took on Foster and leveled the Oilers' enforcer, adding further insult to injury.

"It is two points and two very important points for us. I think over the last six (home) games, we've played better and not gotten the two points and at the end of the day, there's nothing like winning. You win maybe not as well as you would like, but it's so important to get the points when they're there and available to be had. Their comeback to make it 2-2, that's the first time in a while our team has been tested like that. We've been behind and come back in games, but never where we had a lead and gave it up and had to come up with a surge, and we did. It was a super shot by James and thank God we do have video review because it was so difficult to see if it was in," head coach Mark Crawford explained post-game.

Langenbrunner described how it felt to return to Dallas, "It felt good. This place holds a special place in my heart, it's fun to be back here. It was great to get the two points. We bounced around a little bit, we were trying to get a little bit of a spark somewhere. We were obviously a little sluggish there, but I think coach pushed the right buttons. I'm excited to be back."

The Atlanta Thrashers were next to visit the American Airlines Center and fell victim to the surging Stars. Two days earlier, Dallas dealt left-winger Fabian Brunnstrom to Toronto Maple Leafs in exchange for right-winger Mikhail Stefanovich and sent down defenseman Philip Larsen to minor league affiliate Texas. The move should one for the future as Stefanovich has represented his home country of Belarus in three World Junior Championships. He is currently playing for HC Dinamo Minsk of the KHL.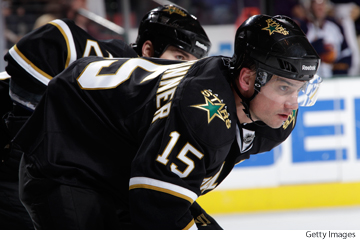 Langenbrunner awaits the puck to drop against the Atlanta Thrashers, the Stars won 6-1.

Trevor Daley scored the opener via the power play as the defenseman collected his fourth goal of the season with Richards and Benn providing the helpers. Andrew Ladd tied the game in the second period but that only added fuel to Dallas' fire. Adam Burish tipped in the go-ahead goal, his fifth of the year before Daley again scored on the power play. It was his fifth of the season as the Stars increased their lead to 3-1 before the close of the second period.

Features
News Archive
Store
Gallery
We have a variety of articles that cover Jamie's career from high school to today.
The only place to get exclusive JL15 apparel.
The gallery features an extensive catalog of images of Jamie throughout his career.
Browse our Archive
Check out the Store
View the Gallery