Recent News
Langenbrunner Signs On For Another Year
July 10, 2012 by Sean Hartnett, JL15.com contributor
Tweet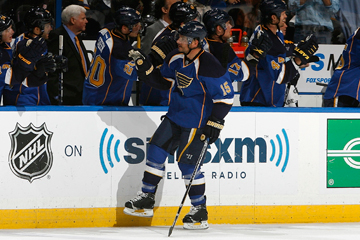 Getty Images

Langenbrunner gets congratulated after scoring against the San Jose Sharks in Round 1 of the 2012 Stanley Cup Playoffs.

Jamie Langenbrunner is ready to pull on the St. Louis Blues' sweater for another season after agreeing to a one-year, $1.25 million dollar deal on Tuesday.

Already, Blues fans are delighted that the popular, hard-working veteran will call the Scottrade Center home for a second season. Teammates, media and fans began reacting to the news shortly after it broke.

Teammate Chris Stewart tweeted @CstewSTL25: "@jprutherford: Langenbrunner's extension is a one-year deal. ‪#stblues‬" AKA ‪#Legend"

Blues' color commentator Darren Pang tweeted @Panger40: "Really good to see J L'Brunner back in ‪‪#StLouis‬ for another season ‪#Legend."

Upon hearing the news, fans began flooding Langenbrunner's fan club Twitter account with messages of excitement.
- John Stein of St. Peters, Missouri tweeted @FHgrad99: "Glad to see you back in the Blue note for another year. This team has some unfinished business. Go Blues!"
- Katie Davis of St. Louis, Missouri tweeted @katd87: "So excited (Jamie) is back in the Note for another year!"

Langenbrunner is entering his 17th season in the NHL. He contributed 6 goals and 18 assists in 70 games in his first season in St. Louis. He accumulated 70 hits over the course of the 2011-12 season and was a plus 7. Jamie is only 7 goals away from reaching the 250-goal landmark in his career.

Blues' General Manager Doug Armstrong released an official statement on the Blues' website on Tuesday.

"We are excited that Jamie has agreed to stay in St. Louis," Armstrong said. "His professionalism and leadership both on and off the ice are invaluable assets for our club."

Langenbrunner will turn 37 later this month. Missouri hockey columnists and teammates alike hailed his influence inside the Blues' locker room and viewed Langenbrunner as the kind of veteran who pulled the team together.

The Blues' assistant captain joined 'NHL Home Ice' on SiriusXM on Tuesday afternoon with host Mick Kern and reflected upon his first season in St. Louis.

"We've made some big strides. The right pieces are in place there. I think we've made the right steps, we're playing a brand of hockey that can be successful. The young players can continue to grow, and the next step would to be one of those teams on top above you."

Blues' head coach Ken Hitchcock has described Langenbrunner as having coach-like trademarks. Hitchcock also hinted that Langenbrunner could receive increased time on the powerplay next season.

"Jamie is like a coach in the locker room," Hitchcock told Jeremy Rutherford of STLToday.com.

"He's able to project our message without us saying anything. He knows what the message is without having a meeting. That's a real ally for us. On the ice, the thing I would like to use Jamie more on, I would like to use him in a role that Kirk Muller played for us in Dallas ... in front of the net on the power play. He's got great hand-eye coordination and I think that's what we need at the front of the net on the power play. I'd like to see him play more minutes on the power play next year."

His impact helped the Blues chase after the NHL's best regular season record as the Blues finished two points below the Presidents Trophy-winning Vancouver Canucks.

After advancing past the San Jose Sharks in five games in round one of the Stanley Cup Playoffs, the Blues were swept by the eventual Stanley Cup Winners, The Los Angeles Kings.

Blues fans are hoping that their team's promising younger talents will continue their development and combine well with core players such as Langenbrunner, Barrett Jackman, Alex Steen and captain David Backes. Langebrunner spoke about Backes' role as captain during his SiriusXM visit.

"He skates hard every shift. I think he's a great guy to have in that captain's role and has a long career ahead of him," Langenbrunner said.

The experience of leading the Blues into the playoffs as captain will surely benefit Backes and youthful Blues group looking to improve upon last season's progress.

For updates involving Jamie Langenbrunner and the Blues, follow us on Twitter -- @JL15FanClub and our Facebook page.
Tweet
Features
News Archive
Store
Gallery
We have a variety of articles that cover Jamie's career from high school to today.
The only place to get exclusive JL15 apparel.
The gallery features an extensive catalog of images of Jamie throughout his career.
Browse our Archive
Check out the Store
View the Gallery