Archived News
Exciting Mix Of Youth And Veterans Have Blues Fans Thinking Playoffs
October 7, 2011 by Sean Hartnett, JL15.com contributor
Tweet
General Manager Doug Armstrong did a fine job in his first season as St. Louis Blues' GM by assembling a collection of talented young hockey players. Combined with the work done by his predecessor Larry Pleau, the Blues are a team rich in established youngsters and prospects nearing a breakthrough into the NHL.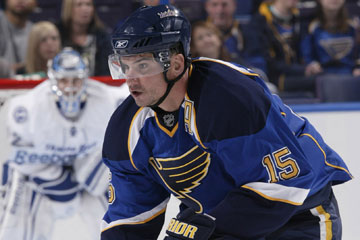 Langenbrunner made his preseason debut with the Blues against Tampa Bay.

Armstrong recognized this off-season that the Bluenotes needed an influx of veterans to join his roster and provide wisdom inside the locker room. In signing Jamie Langenbrunner, Jason Arnott, Scott Nichol and Kent Huskins, St. Louis added four highly experienced pros. Between them, they've collected four Stanley Cups and bring a wealth of playoff experience. Along with established voices Barret Jackman, Andy McDonald, Alexander Steen and David Backes, the Blues now have the appearance of a better-rounded hockey club that is set to compete hard for a playoff berth.

Last season, St. Louis fell ten points short of reaching the playoffs in the always fiercely competitive Western Conference. Armstrong's summer additions will attempt to close that gap and improve upon their 2010-11 record of 38-33-11. Davis Payne is entering his third season as Blues' Head Coach and is past the developmental coaching stage in the National Hockey League. He has the benefit of two years under his belt at the highest level and worked with a number of players on St. Louis' current roster while coaching in the AHL at Peoria.

Crucial to Payne's plans is the play of starting goaltender Jaroslav Halak. The Slovakian net-minder was one of the league's hottest goalies during the early months of last season but his play tailed off in the second half. If Halak rediscovers the consistency that he displayed in his final year with the Montreal Canadiens, he can single-handedly win games in bunches. When Halak is on his game, he plays at a level few can match around the NHL.

The Blues are expecting a shored-up blueline to take pressure off Halak this season. Assistant captain Barrett Jackman and Roman Polak missed significant time during the 2010-11 season and their return to full health will give the Bluenotes a more solid defensive core. Huskins, Jackman, Polak and Carlo Colaiacovo are all 'stay at home' type defensemen and their style will allow two of the most exciting young defensemen in the league to flourish offensively.

Alex Pietrangelo and Kevin Shattenkirk each collected 43 points in their first full seasons in the NHL. Shattenkirk, acquired from the Colorado Avalanche in February finished 2010-11 as the league's top point-getter among rookie defensemen. If not for Pietrangelo playing 15 games combined in his previous two seasons, the Blues would have had the two highest scoring rookie defensemen last season.

At the respective ages of 22 and 21, Shattenkirk and Pietrangelo are on track to continue their success and possibly improve upon their point totals of 2010-11. Scouts believe that both of them can become future All-Stars and many are pegging Pietrangelo to capture multiple Norris Trophies once he fully develops.

Also acquired in the February trade with the Avalanche was natural goal-scorer Chris Stewart. Fans in the 'Show-Me State' came way immediately impressed with Stewart who was a seamless fit with the Blues. In 26 games, Stewart scored 15 goals and 8 assists. This has Blues fans setting lofty targets for their sniper and some believe that he can become the first player in franchise history to hit the 40-goal mark since Brad Boyes in 2007-08.

Features
News Archive
Store
Gallery
We have a variety of articles that cover Jamie's career from high school to today.
The only place to get exclusive JL15 apparel.
The gallery features an extensive catalog of images of Jamie throughout his career.
Browse our Archive
Check out the Store
View the Gallery