Archived News
Lead by Langebrunner, USA Overcame the Odds in Vancouver to Win Silver
June 8, 2011 by Sean Hartnett, JL15.com contributor
Tweet
Team USA defied the odds and their critics to mount an inspirational run into the gold-medal game at the 2010 Vancouver Olympics. Jamie Langenbrunner took time out of his off-season schedule to speak about his experience leading the Stars & Stripes as Olympic captain. Two major stars of the tournament, MVP Ryan Miller of the Buffalo Sabres and Zach Parise of the New Jersey Devils kindly shared their insight on USA's journey during the Vancouver Olympics to capture the silver medal.

Before the opening of the 2010 Winter Olympics, consensus among prominent hockey experts and Vegas odds-makers was that the United States were "long shots" to reach the medal round. USA Hockey General Manager Brian Burke reiterated those feelings in a pre-tournament conference call. "We are underdogs. If you went to Vegas before this tournament, there isn't going to be a penny bet on us. Everyone's going to be betting on and talking about Canada, Russia and to a lesser extent, Sweden. We're not manufacturing underdog status -- that's what we are," Burke explained.

An experienced, respected and committed locker room presence was needed bring together a youthful US Olympic roster and change the perception of what could be accomplished in Vancouver. The brain-trust of Burke and head coach Ron Wilson strongly believed that Langenbrunner was the ideal leader to captain Team USA.

Burke and Wilson highlighted the attributes that made Jamie a natural fit for the role during a media conference call. "The one thing we didn't have any kind of fight on was picking our captain. He's been a model of consistency, of versatility and a guy who does just about everything well on an ice surface and lots of things well in the dressing room. (There was) lots of tough decisions for Team USA going into this Olympic Games but picking our captain wasn't one of them," Burke stated.

"I'm really proud that Jamie's going to be our captain. I've coached him in a couple of events and he is the ultimate professional. His experience prior in the Olympics and the World Cup will get our team together and pulling in the right direction," Wilson agreed.

Langenbrunner was taken aback by the privilege of representing his country as Olympic captain. "I was definitely honored and a little surprised. I got the call phone two days after being named to the team. I was still excited about being named to the team and to get that honor was also pretty amazing. I have a lot of respect for both of those guys. I had played for Wilson in the '98 Olympics and in the World Cup in '04. I hadn't been around Brian Burke that often but had a lot of respect for what he had done building teams."

From the beginning of the tournament, Langenbrunner made it clear that Team USA's aim was to come away with the gold medal. He helped instill that belief and establish a team-first mentality. "That was definitely the mindset we went with. Obviously, the experts weren't giving us much of a chance but we believed in ourselves. We probably didn't have the talent level of Canada, Russia or Sweden but we had a team of guys who were willing to do things within a team atmosphere of sacrificing," he explained.

Jamie continued, "You had guys like Ryan Callahan and Ryan Kesler, who has obviously turned himself into one of the best players in the league, who were willing to sacrifice. Chris Drury who played on many Olympic teams was playing a little bit of a lesser role but accepted that and showed the team how to follow his lead. He didn't wear a letter but to me was one of the best leaders on the team by the way he accepted his role, came to work and helped everybody as we went along. The biggest thing is that we bought into being a team quickly in a short tournament."

"Your superstar players are going to be important and do a lot of things but the third and fourth lines guys can plug in, play important minutes and do some of the not so glamorous things that help teams win championships. Having a lot of guys who were willing to do that gave us the opportunity to make it hard on teams and play a really good, solid team game," Langenbrunner said.


Getty Images

Langenbrunner looks in on a play against Norway.

USA got out to a perfect start by earning victories over all three of their preliminary stage opponents. Switzerland and Norway attempted to play tight defensive hockey but the Americans overpowered them with offense and skill, winning 3-1 and 6-1 respectively. "We had a very difficult opening game against Switzerland, a team that had been together for the most part and had the advantage of already being a team. We battled through, played a tough game and got the win so there was definitely some more confidence there," Langenbrunner remembered.

Ryan Miller spoke about Team USA's belief in one another and their ability to grind out winning results early on. "We got behind each other and came together as a group quickly. Our schedule worked to our advantage where we had two tough games right away against teams that played frustrating defense. Norway had some skilled guys who could bring it to the net. They played a man-on-man in the zone which was hard to get around in a tournament format. It's a one game and they were putting it all on the line. Finally we were able to break the game open but for while there it was 2-1."

Having experienced veterans around like Langenbrunner, Drury and Brian Rafalski helped Team USA stay grounded and not get overconfident as Miller reflected. "They brought experience. I think that's the main thing. The young guys are excited, they want to play and need someone to settle things down and give perspective. You have guys who have been around hockey for awhile who understand you can put together a good stretch and play together as a team - good things can happen."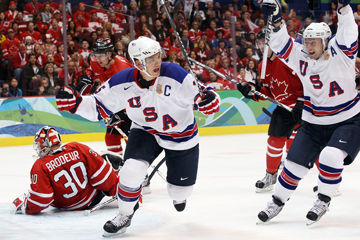 Getty Images

Langenbrunner celebrates after Brian Rafalski's goal against Canada in the preliminary round.

An early test awaited Team USA when they faced Canada in the third and final of the group stage. Despite being out-shot 19-6 in the first period, the Americans made the most of their chances. Rafalski claimed the game's opening goal as Langenbrunner's hard work along the boards resulted in an assist. Eric Staal got the Canadians on the scoreboard before Rafalski struck back with his second goal of the contest. Canada continued to pressure the US as Dany Heatley tied the game 2-2 early in the second period but the resilient Americans regained their lead when Drury scored before the second intermission. Langenbrunner scored on the power-play to make it 4-2 before Sidney Crosby found a power-play goal of his own to bring Canada within a goal. Ryan Kesler ended any chance of a Canadian comeback by hitting the empty-net as Team USA won 5-3 and finished as the number one overall seed.

Features
News Archive
Store
Gallery
We have a variety of articles that cover Jamie's career from high school to today.
The only place to get exclusive JL15 apparel.
The gallery features an extensive catalog of images of Jamie throughout his career.
Browse our Archive
Check out the Store
View the Gallery