Archived News
Devils Try To Regroup After Series of Tough Losses
December 12, 2010 by Sean Hartnett, JL15.com contributor
Coming off an inspirational overtime victory over the rival Philadelphia Flyers, the New Jersey Devils expected to continue their upswing and begin to climb up the Eastern Conference ladder. Faced with the challenge of running through a gauntlet of five difficult opponents ahead of them, the Devils showed signs of improvement but couldn't muster a victory.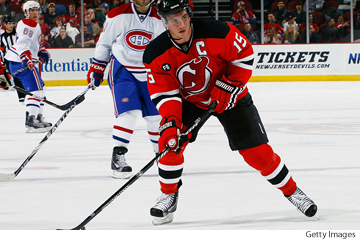 Langenbrunner about to take a shot while facing the Canadiens.

Jamie Langenbrunner returned to New Jersey's lineup in time for their Prudential Center clash with the Montreal Canadiens. The Devils' captain missed the previous eight games due to a lingering neck injury suffered November 10th against the Buffalo Sabres. Defenseman Matt Corrente also recovered from an upper body injury to be called upon by head coach John MacLean.

"I hope to be playing at a better level. If our team is going to get out of the situation that we dug ourselves in, we're going to have to keep on elevating our game not only individually, but as a team. I think I witnessed a little bit of that in watching the last few games. The team has played better as a team and some individuals on different nights have elevated their games. That's got to be a continuing process and the whole group has to do that," Langenbrunner stated pre-game.

A rare opportunity of seeing two brothers on opposite sides was in the cards as New Jersey right winger Stephen Gionta was set to battle Montreal captain and former Devils' fan favorite Brian Gionta. Amongst the crowd gathered at "The Rock" was proud parents Sam and Penny Gionta who when interviewed by MSG's Steve Cangialosi made it clear that they weren't picking sides.

It was Brian who gave the Canadiens an usually early lead as he pushed a loose puck past Johan Hedberg just eleven seconds after the opening face-off. A minute and twenty-seven seconds later, it was Lars Eller whose wrap-around effort goal led to MacLean summoning Hedberg to the bench, replacing him with backup Mike McKenna. It was an uncharacteristic night for the Swedish stopper who had previously saved 113 of 117 shots over his past four appearances.

McKenna attempted to stop the goals from leaking into the New Jersey's net but Montreal was able to strike three times in the second period, including a goal from former Devil Scott Gomez. The home goal horn finally sounded near the midway point of the third period when Patrik Elias fed Jason Arnott who collected his ninth goal of the season. It was Elias' twelfth assist of the year and an eighth helper from Dainius Zubrus who was credited with a secondary assist.

Unfortunately, that would be the lone tally for the Devils that evening as they were soundly defeated 5-1. MacLean later vented his frustration at his team's play, "Yeah, it's disappointing. They outplayed us in every aspect of the game. They were prepared to play, we weren't."

After the game, Brian Gionta spoke of his delight for his brother Stephen, "I'm very proud. It's been a long time coming. Obviously he's worked extremely hard for it. His patience and work ethic finally paid off. It's nice to see him realize his dream."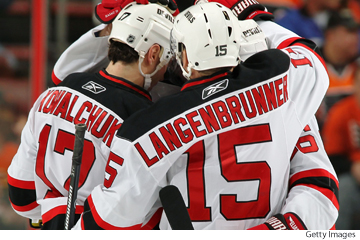 Kovalchuk, Langenbrunner and Elias celebrate after a goal against the Flyers.

The Devils then traveled across the Delaware River to again tangle with familiar foes, the Philadelphia Flyers. New Jersey was able to find the opening goal through a power play one-timer that Ilya Kovalchuk blasted past Flyers' net-minder Sergei Bobrovsky. It was his fifth goal of the year as Langenbrunner and Elias picked up their seventh and thirteenth assists of the season respectively. Middletown, NJ native James van Riemsdyk answered back for Philadelphia just seconds later tying the contest.

Before the close of the first period, the Devils regained their lead as Travis Zajac slotted home his third goal of the season as Langenbrunner was again the provider with his eight assist of the campaign. Colin White's secondary assist was his first point of the season. The Flyers' leveled the game with the lone goal of the second period as Claude Giroux easily pushed the puck into an unguarded New Jersey net.

Philadelphia captain Mike Richards and Danny Briere both found third period goals but the Devils continued to pepper Bobvorsky with shots. Their heavy pressure resulted in a late Elias goal coming again by the power play. It was the Czech forward's fourth tally of the season as Zajac and Arnott collected their eighth and fifth assists of the year respectively.

Features
News Archive
Store
Gallery
We have a variety of articles that cover Jamie's career from high school to today.
The only place to get exclusive JL15 apparel.
The gallery features an extensive catalog of images of Jamie throughout his career.
Browse our Archive
Check out the Store
View the Gallery