Archived News
The Devils Triumph Over Adversity To Reignite Their Season
December 1, 2010 by Sean Hartnett, JL15.com contributor
Over their past six games, the New Jersey Devils faced adversity, tough luck and tragedy but played their best hockey when matched against division-leading franchises. New Jersey's recent victories over the Washington Capitals and Philadelphia Flyers have given their fans belief that their season can get back on the right track as they enter December.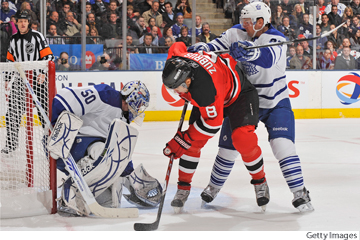 Zubrus worked hard all game, eventually netting one while facing the Maple Leafs.

The Devils arrived at the Air Canada Centre on November 18th, hoping to recapture the inspiration behind their impressive triumph over the Stanley Cup winning Chicago Blackhawks. After a scoreless opening period, it was Toronto Maple Leafs who struck twice to take a 2-0 advantage. Danius Zubrus' deflected effort squirmed past Jonas Gustavsson to get New Jersey on the scoreboard as the Lithuanian picked up his second goal of the season.

A reoccurring elbow injury forced Martin Brodeur to leave the game as Johan Hedberg relived the Devils' stalwart net-minder as the third period began. Kris Versteeg scored a one-timer that sealed the victory for Toronto as the Devils were downed 3-1.

On November 19th, 2010 the New Jersey Devils family and the entire hockey world lost a colorful personality and a deeply respected icon when Pat Burns, 58 succumbed in his hard-fought battle with cancer. Burns was a universally liked figure around hockey and made a special mark on each city he graced as head coach.

His final two seasons of his coaching career was spent in New Jersey where he guided the franchise to their third Stanley Cup championship in 2003. Burns compiled a strong 89-45-22-8 record while presiding behind the Devils' bench and reached the 100-point mark each season. Various forms of cancer forced Burns to step down from his role as head coach but he stayed on as an advisor and special assignment coach for the Devils until his death. The Quebec native remains the only coach in NHL history to have been awarded the Jack Adams Award three times and captured three division titles during his career.

Captain Jamie Langenbrunner was one of group of current Devils who played under Burns and shared his memories with The Bergen Record's Tom Gulitti. "It was some great times," Langenbrunner said. "A lot of us will remember his fire, his intensity, the way he always held everybody accountable. He was hard on you, but you enjoyed his passion and that's why you enjoyed playing for him."

With heavy hearts, the team made their way to St. Louis to take on the Blues as 27 year-old Mike McKenna joined the Devils from their minor league affiliate in Albany as an emergency call-up. John MacLean handed McKenna his Devils' debut, making the start in his hometown as family and friends watched. Patrik Elias took part in his 900th career game that evening.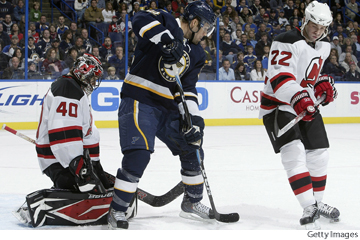 McKenna (40) makes his Devils debut in front of a hometown crowd in St. Louis.

David Clarkson's wrist-shot beat Jaroslav Halak as New Jersey jumped out to an early lead 26 seconds into the first period. It was Clarkson's third goal of the season as Travis Zajac recorded his seventh assist of the year. Midway through the period, the Devils surrendered an unusual goal as McKenna appeared to have covered the puck but no whistle was blown to signal a face-off. The Blues continued to jam away as Alex Pietrangelo was eventually credited with a power play goal, evening the contest.

The Devils regained their lead halfway into the second period as Mattias Tedenby found himself on a breakaway and scored a backhander past Jaroslav Halak. It was his second goal since his October 10th call-up. Elias' superb vision led to the opportunity on net as he intercepted the puck and completed a long-distance pass, picking up his tenth assist.

St. Louis' tying and game-winning goals came through inauspicious shots from the point directed past McKenna. Despite pressuring the Blues with 37 shots on goal, New Jersey was defeated 3-2. McKenna's overall play in net was strong as he held his own against one of the league's hottest goalies in Halak.

Zajac gave his post-game verdict, "We did a lot of good things, and a couple of bounces they got...that's what happens when things seem to be going the wrong way. It sort of snowballs. It's a tough loss because Mac played great in net."

Back home, the Prudential Center was the stage for a demolition of the Eastern Conference leading Washington Capitals. Making his NHL for the Devils was 23 year old defenseman Mark Fayne who was called up from Albany. Pre-game ceremonies remembered the life of Burns and a commemorative patch was stitched on New Jersey's uniforms in his honor.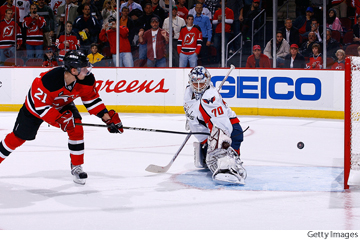 Tedenby puts away his penalty shot against the Caps.

The "charged-up" Devils wanted to make a statement and Elias made the early breakthrough on a first period power play, his third goal of the current campaign. Jason Arnott was next to beat Braden Holtby, securing his seventh goal of the season on a wrap-around effort. Tedenby rushed on net but was brought down and awarded a penalty shot with the opportunity to score his third goal of his career. His cool backhander eluded Holtby as the New Jersey was up 3-0 before the close of the period.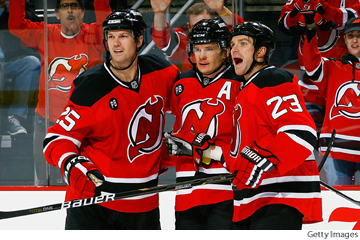 Elias gets congratulated by Arnott and Clarkson after scoring a goal against Washington.

Arnott's second goal of the night took his total to 8 on the year. Elias and Andy Greene each picked up their second assists of the evening and their eleventh and eighth helpers of the season. Zubrus later increased the blowout lead to 5-0 with his third goal scoring this year.

With neither team able to find the net in third period, the scoreboard remained the same when the final siren wailed at "The Rock." The Devils skaters congratulated Hedberg who completed his first shutout of the season, making 30 saves.

It was a hugely important team victory as MacLean explained, "At home, we needed it. I was very happy with how the players picked one another up all night. If there was a mistake that was made, there was somebody there covering. The support, they were all into it the right way."

Former Devils' head coach Brent Sutter and the Calgary Flames next arrived at the Prudential Center. Clarkson's deflection goal opened the scoring in the first period, his fourth of the season. The two teams continued to battle in a defensive affair neither could manage to find another tally through the second period.

Rene Bourque beat Hedberg early in the third period as the Flames returned the favor with a tip-in of their own. The game shifted to overtime and tremendous chance on net created by Arnott and Elias was denied by Henrik Karlsson.

It would take a shootout to determine the evenly-played game. Hedberg stood tall as he stopped all three Calgary shooters and the lone conversion by Kovalchuk earned the Devils their victory. It was two wins in a row for MacLean's men.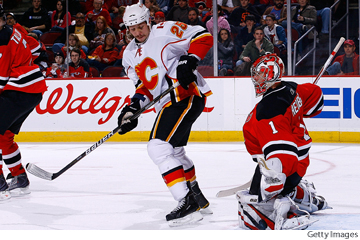 Hedberg makes a left pad save in a strong performance against the Flames.

Again, Hedberg was the hero and shared his thoughts on the win, "We have to build our confidence back, which was really shattered early in the year here. The way we're feeling about the way we're playing is the most important thing. We're getting rewarded here two games in a row. Hopefully we can keep this work ethic and this way of playing up, and we're going to be in good shape."

Divisional foes, the New York Islanders awaited the Devils for a Friday matinee at the Nassau Coliseum. Jesse Joensuu's first period goal got the Isles out to an early lead. Rob Schremp later scored from an odd angle in the second period as the Islanders went up 2-0.

Despite New Jersey out-gunning the Isles 13-1 in the third period, Rick DiPietro proved a brick wall in net. The American goalie withstood a flurry of shots on a 5-on-3 Islanders' penalty kill, earning a shutout as the Devils were defeated 2-0.

The final fixture of November brought the defending Eastern Conference champion Philadelphia Flyers to "The Rock." Philadelphia entered the contest on top of the Atlantic Division and had won five of their previous six games. The Devils knew that it would take a determined effort to come away with a victory.

Adam Mair's snap shot midway through the first period went off the pipe and in as New Jersey grabbed the advantage over their rivals. It was Mair's first goal as a Devil as Clarkson and Rolston were credited with their third and second assists of the year respectively.

After a scoreless second period, Danny Briere leveled the affair in the third period by sneaking in a goal past Hedberg. As Martin Brodeur continued to recover from a bruised elbow, the Swede put in a performance that Brodeur would be proud to call his own. The Flyers kept piling pressure on Hedberg who was up to the task, making 40 saves.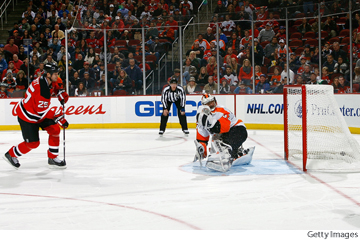 Arnott beats Boucher of the Flyers to extend the shoot out.

Overtime couldn't provide a winner and the Devils once again found themselves in a shootout situation. After the initial four shooters couldn't break the deadlock, Nikolay Zherdev put one past Hedberg. Arnott was up next and equalized for New Jersey by beating Brian Boucher. After Flyers' captain Mike Richards missed his effort, the game was in the hands of Zajac who delivered the victory with the clincher.

"It's a big win. Obviously to bounce back from yesterday and play shorthanded tonight. That's a good hockey team and for us to come together and get those points, it's pretty important," Zajac told reporters post-game.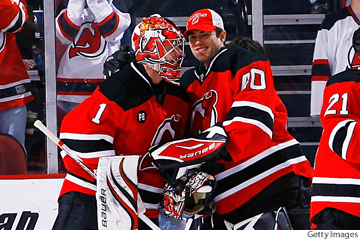 After defeating the Flyers, Hedberg celebrates with McKenna.

MacLean heaped praise upon Hedberg who continued his hot form, "I can't say enough good things about him. He's really playing confident now and he's under control. It's great for him. He's a great person and a great teammate. We're happy to see it."

The Devils will soon be boosted by the return of captain Jamie Langenbrunner who returned to practice Tuesday. Langenbrunner has missed the past eight games due to neck soreness but could take part in Thursday's home date against Montreal. "We're hopeful. I thought he had a good practice. We'll see how he is [Wednesday], and hopefully he gets through another day of practice, then we'll make that decision," MacLean reveled.

Martin Brodeur is expected to miss another week due to a bruised right elbow. Zach Parise will likely be out until February after knee surgery. Matt Taormina remains sidelined due to a sprained left ankle. Jacob Josefson and Mark Fraser continue their recovery from thumb surgery and a broken hand respectively. Anssi Salmela has skated with the team but is yet to be cleared to play and remains on the long-term injured reserve. There is no timetable on when Bryce Salvador will come off the IR due a concussion.

After 24 games into the season, the Devils sit 4th place in the Atlantic Division with a record of 8-14-2. Patrik Elias is the current team points leader at 14 and also is the Devils' top assist-getter with 11 helpers. Jason Arnott stands in front of all Devils in the goal-scoring race with 8. Anton Volchenkov is the club's plus/minus leader at +4. Martin Brodeur and Johan Hedberg are even in victories as each has picked up 4 wins apiece. Hedberg's goals against average of 2.66 bests Brodeur's mark of 2.74. He also carries a slightly stronger save percentage at 91.0% compared to Brodeur's 90.1%.

On this past Monday, a memorial service to celebrate the life of Pat Burns was held at Mary Queen of the World Cathedral in Montreal. The Devils' family including current and former players along with club executives joined representatives from each of three other teams that Burns had coached in the Montreal Canadiens, Toronto Maple Leafs and Boston Bruins.

Over 1,200 were in attendance as family, friends, policemen and both hockey and political dignitaries paid their respects to the beloved coach and former police officer. Devils' general manager Lou Lamoriello delivered a warm, touching and profound eulogy to the gathered masses inside the cathedral.

"There was something about him that day that was unique and different. There was something genuine about him. What he said, you believed. What he said was not only what he preached, it was what he practiced," Lamoriello said as he recalled his meeting in New Hampshire where he first discussed with Burns the possibility of becoming head coach of the Devils.

Jamie Langenbrunner spoke to Gulitti, "It was both sad in the fact of where we were and what it was for, but also I think extremely impressive and it showed all the people he affected. He continued, "The people that where there from the ex-players to (Charest) in a massive church like that, it was pretty much jam packed. The line of people to come in and give their condolences to the family and the diversity of the people—from politicians to bikers across the country—was pretty neat."

Current New Jersey head coach John MacLean told Gulitti, "It was a nice event. It was good for Burnsie. With the media and all of the things surrounding him as far as he battled so hard and (not being voted into) the Hall of Fame, everybody wanted to give him a good sendoff and it was a quite a sendoff for him—well deserved."

A special thanks from the entire JL15.com team to Tom Gulitti of The Bergen Record for his contributions to the preceding article. We will always remember Pat Burns fondly as a dedicated coaching legend who made his own unique impact on the hockey landscape. Condolences to the family, friends and everyone this great man touched.
Features
News Archive
Store
Gallery
We have a variety of articles that cover Jamie's career from high school to today.
The only place to get exclusive JL15 apparel.
The gallery features an extensive catalog of images of Jamie throughout his career.
Browse our Archive
Check out the Store
View the Gallery